Urology USB Connection Uroflowmeter Urine Flowmeter
---
CHL-U961A

According with the principle of weighing, utilize the high accuracy sensor and world class controlling technology. By means of microcomputer to analyze the data from sensor. It can supply speedy and convenient test of urine flow rate items. The measuring data and technology is comply with the requirement of International Continence Society (ICS.).
CHL-U961A is mainly used for measuring patient's voiding process parameter (Volume quantity, urine flow rate) and curve of process. The data will be supplied to the doctor for evaluation of patient's lower urinary function and diagnose the lower urinary obstruction or make it as reference of treating method. Evaluate the treating effect.
The different installation measuring system can be supplied by different requirement of user.
The parameter will be measured automatically, intelligent measuring start, whole course urine flow rate curve, 2.0 USB interface (computer model for selection).
The CHL-U961A Intelligent Urine flow meter is the particular diagnosing equipment used in urology surgery to examine the dysfunction of lower urethral tract. It adopts high-precise weighing sensor and top grade control technique to provide convenient, economic and quick test of urine flow rate. Its performance parameters have reached international advanced level.
Product features:
Automatic parameter measurement, intelligent start measurement, exhaustive urine flow rate curve,2.0 USB interface (for selection).
It prints English report automatically.
ICS Uroflow Measuring Case History: Curve of Exhaustive Urine Flow Rate, Voided Waiting Time, Voided Time, Urinary Flow Time, Time Elapsed of 10% Volume, Time Elapsed of 95 Volume, Time of Maximal Urinary Flow, Maximal Urinary Flow, Average Urinary Flow, 2 Seconds Urine Flow Rate, Voided Volume.
Has the function of data storage, analysis and solution.
Technical parameters:
Measurement of voiding volume: Range: 10mL ~ 1000mL,
error: ±1%
Measurement of voiding time: Range: 0s ~ 300s, error: ±2s
Waiting time of voiding: ≤300s
Measurement of urine flow rate: Range: 0 mL/s ~ 50mL/s,
error≤1.5 mL/s
Power supply: a.c.220V±10%, 50Hz±1Hz
Temperature of environment: 5℃ ~ 40℃,
Relative humidity of environment: ≤80%
Atmospheric pressure of environment: 60kPa ~ 1060kPa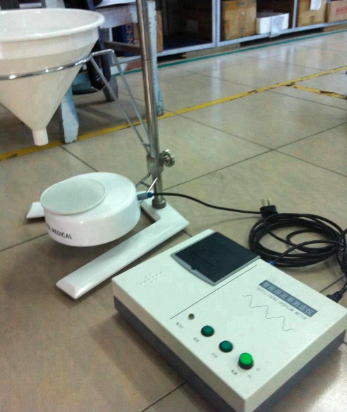 Options
---