New Fully Automatic Urine Sediment Analyzer
---
CHL-U81/U81P
CHL-U81 Single Channel 20samples/time
CHL-U81P Double Channels 60samples/time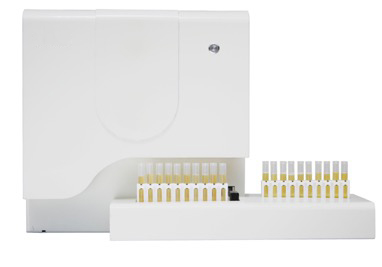 Main Technical Specs:
Test items: RBC, WBC, and other components of clinical requirements.
Detection principle: Application of machine vision and the SVM (support vector
machine) technology.
Sample loading method: Sample rack loading under laser senors, 2*10 samples load once.
Sample handling method: Detected directly without centrifugation.
Detection speed: T≥60s.
Sample volume: Minimum volume: 2ml non-centrifugal urine, aspirating volume:
about 1.0ml.
Planar flow counting cell: Adopted international advanced optical rubber technology
to avoid sample linking, to reduce time of sedimentation, and to provide the best vision range and definition.
Cross contamination: Clean internal and external wall of sample sucking needle to
avoid cross contamination.
Data storage: ≥600000
Network communication: It can connect with semi automatic urine analyzer and combine results of urine analyzer to produce final report, which can be sent to the hospital LIS system or HIS system.
Report model: adopt international general quantitative unit: objective/ul.

Technical Advantage:
Fully-automatic segmentation and recognition Technology:
Recognition items: RBC, WBC, Fungus, Tube type, Shrinking RBC, Bacteria, Impurity, Crystal, Epithelial cell, Sperm.
Technique of sample loading with peristaltic pump:
Compared with the traditional injection pump, it is simpler and can avoid effectively the crossed contamination.
Clean internal & external wall:
The vertical suction needle wall washing technology, cleaning internal & external wall of the sample sucking needle, turbine cleaning counting cell and inner wall of pipeline from two opposite direction, completely prevent cross contamination.
Planar flow technology for counting cell:
Test with high and low lens, automatic sieve negative samples, automatic recognize positive samples.
The laser sensor technology:
Adopt laser induce technology, control flow with high precision.
Reagents:
U-100 Urine sediment cleaning reagent
U-200 Urine sediment maintenance reagent
U-300 Sediment QC reagent
The Test Items:

Software Principle Flow Chart:


Report Presentation: