CE FDA LCD Bipolar Electrosurgical Cautery Unit
---
CHW-E400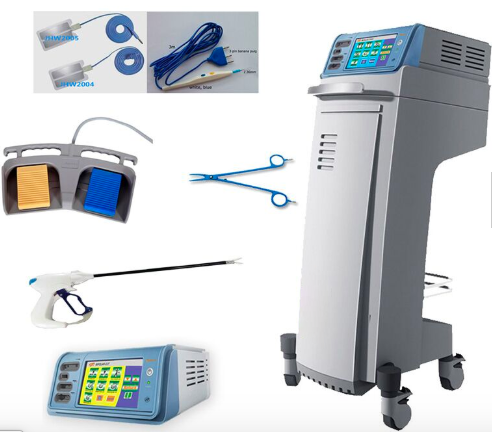 Time control feature
There is time control feature under bipolar coag modes. Time output rang from 0.1 to 2.0, which makes much delicate surgeries like Neurosurgeries and etc.
TURP Functions
Both under Monopolar modes and Bipolar modes
This mode is used in under water environment for surgery especial Resectoscopy, which removes the tissue in the prostate with kinetic plasma under saline liquid
Pulse output
Pulse Cut Technology provides control of cutting depth for critical dissections necessary for Endoscopic retrograde cholangiopancreatography (ERCP), which mainly for theGastrointestinal (GI) range surgery.
Pulse Coag Technology provides pulsing bursts of Coagulation energy for more control of hemostasis during the operations, which make sure less tissue carbonization.
Polypectomy Function
Special cutting modes necessary to remove polyps and the procedure of Papillotomy, alternating of cutting and coagulation enables achieving an optimal coagulation for this application and reduces the probability of bleeding.
Mastoid Cut function
This function can be used for ENT surgeries and etc.
Application of use
General Surgery; Ligation Surgery; Gastroenterology
Dermatology; Vascular Surgery; Obstetrics and Gynecology
Heart/Thoracic Surgery; ORL/ENT; Minimally Invasive Surgery (MSI)
Cerebral surgery; Neurosurgery, Orthopedics & Plastic Surgery;
Trans Urethral Resection (TUR) and etc.
Technical parameters
---
| | | | | |
| --- | --- | --- | --- | --- |
| Model | | | Rated load | Max. output power |
| E400 | Monopolar Cut | Pure | 500∩ | 400w |
| | | Blend 1/2/3 | | 300w |
| | | Blend 4/5/6 | | 200w |
| | | Blend 7/8/9 | | 150w |
| | Monopolar Coag | Contact | 300∩ | 150w |
| | | Dessication | | 150w |
| | | Fulgurate | 500∩ | 120w |
| | | Spray | | 120w |
| | Bipolar Cut | Pure | 100∩ | 99w |
| | | Blend | | 99w |
| | Bipolar Coag | Standard | | 99w |
| | | Precise | | 50w |