1)High efficiency oil-free compressor core and multi-stage air filtration dewatering cooling systemensure that gas meets the targets of compressed air for medical use.
2)Freeing refrigeration systems the whole low running noise.
3)Automatic drainage device in conjunction with its periodic drainage dual separation technology.
4)Flow synchronization output can be used simultaneously for two devices.
5)Start protecting relief function and then start the locking behavior does not occur.
2L-100L/Min Medical CPAP Oiless Air Compressor
CHH-PN4000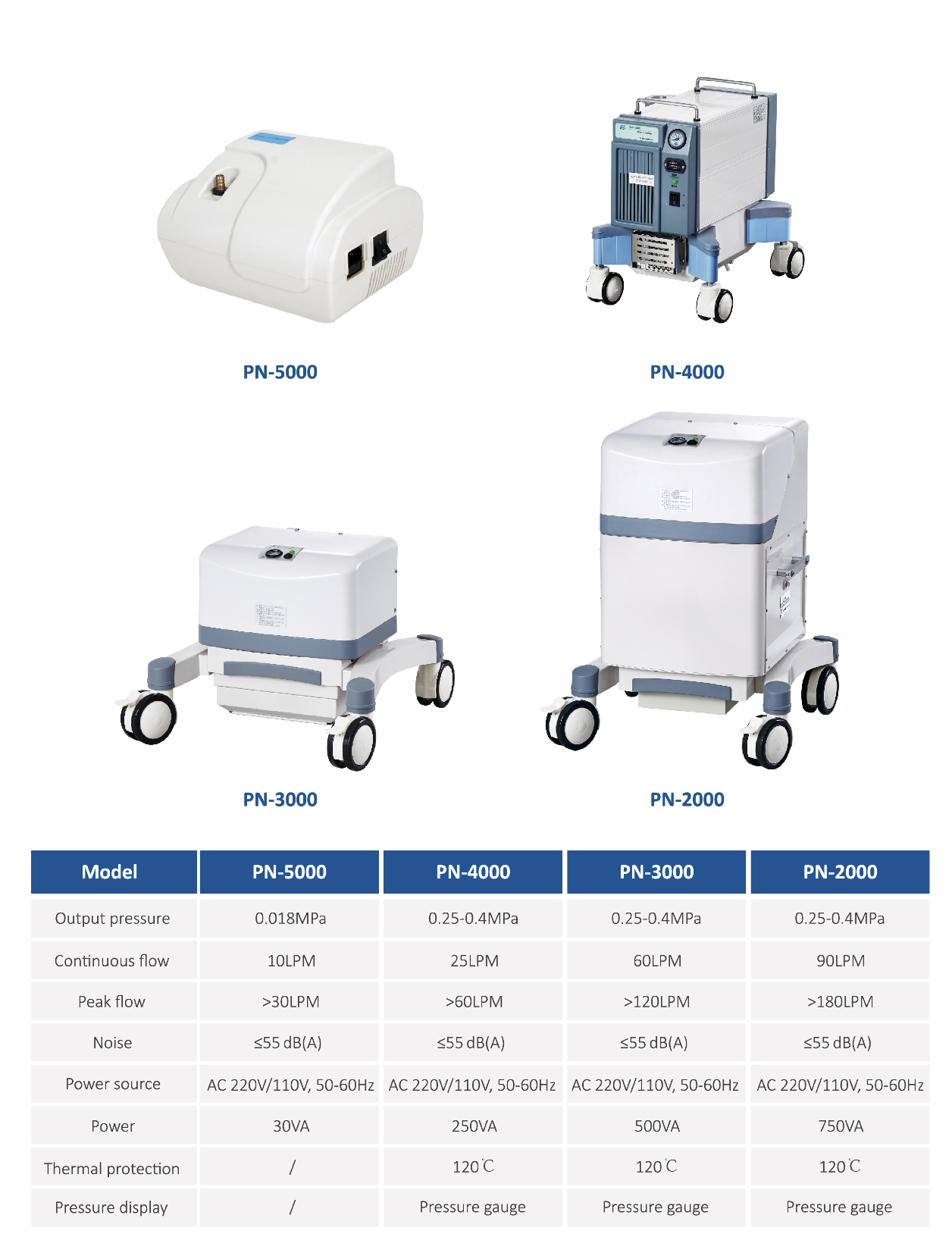 The compressor movement is oil-free, and the compressor equipped with a multi-stage filter for dehydration and cooling, to ensure the output gas can meet the needs of compression gas.
The freezer refrigeration system operating with low noise.
High flow with double output port, to supply for two devices at the same time.
Start the machine with a relief protection function.
It applied in all kinds of ventilators, and supply all kinds of connectors.
Sufficient storage of imported parts and better service of after-sales.

The core part of oil-free medical air compressor adopts the oilless vacuum pump of GAST&THOMAS, a pneumatic component of SMC and NORGER, fan system of ORIENTAL MOTOR. This product widely applied in ventilators, anesthesia machines, automatic ventilators, air-oxygen blenders, CPAP for supplying positive-pressure.

Technical parameter:
| | |
| --- | --- |
| Maximum discharge pressure | 0.7MPa |
| Output pressure | 0.25MPa~0.4MPa |
| Output flow | 25L/min |
| Noise | <55dB(A) |
| Power source | A.C. 220V110V, 50Hz |
| Power | 250VA |
| Thermal protection | 120ºC |
| Pressure display | Pressure gauge |
| Protection function | High-temperature thermal protection |
​