Mobile Audiometric Booth
- General specifications:
· Has 4 scroll wheels
· The wall made by two steel layers
· The outside of the wall use electrostatic spraying technology
· The interior surface is polyester fiber acoustic board
· Steel walls laying high-performance acoustic damping mat
· Filled with formaldehyde-free environmental sound-absorbing cotton between two steel plates
· Has an active ventilation system
- Items certainly included in each:
· Main audiometric booth: 01 piece
· Folding wall chair: 01 piece
· Headphone hook: 01 piece
· Internal muted lighting: 01 piece
· 6 channel signal adapter: 01 piece
Single Door Hearing Soundproof Booth Mobile Mini Audiometric Testing Booth
CHR-AR100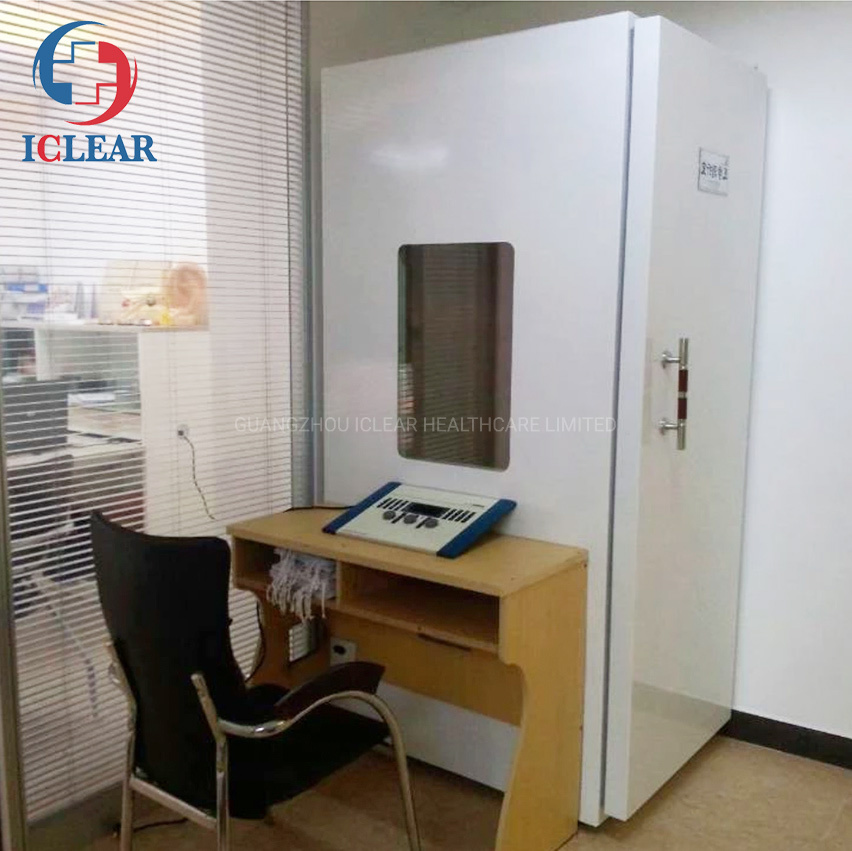 The mobile audiometric room(booth) is a small-size steel integrated room dedicated to hearing aid fitting mechanism, it has scroll wheels, so it's convenient to move. Applicable For the small and medium size of the hearing aid fitting mechanism.
After installation, when the noise of the room ≤ 55dB, noise in the audiometric room ≤ 30dB, up to the international advanced level, and the internal air quality meet the GB50325-2010 standard.
Mobile Audiometric Booth
- General specifications:
· Has 4 scroll wheels
· The wall made by two steel layers
· The outside of the wall use electrostatic spraying technology
· The interior surface is polyester fiber acoustic board
· Steel walls laying high-performance acoustic damping mat
· Filled with formaldehyde-free environmental sound-absorbing cotton between two steel plates
· Has an active ventilation system
- Items certainly included in each:
· Main audiometric booth: 01 piece
· Folding wall chair: 01 piece
· Headphone hook: 01 piece
· Internal muted lighting: 01 piece
· 6 channel signal adapter: 01 piece
| | |
| --- | --- |
| Item | Size |
| External dimensions | 89*76*203cm(L*W*H) |
| Internal dimensions | 80*60*172cm |
| Soundproof door dimensions | 75*192cm (W*H) |
| Soundproof door frame dimensions | 60*170cm (W*H) |
| Soundproof window dimensions | 38*60cm (W*H) |