Lab Rapid Test Strip Reader
---
CHL-200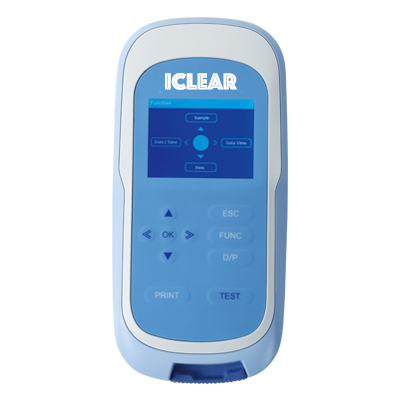 CHL-200 portable Test Strip Reader is a compact design and extremely small reader. The reader is your solution for customized colorimetric tests. It can make rapid, high sensitivity--in qualitative, semi-quantitative, fully quantitative measurements for immunochromatographic reagent kits.
CHL-200 Portable Test Strip Reader is capable of reading up to 5 lines evaluating the Lateral Flow Colloidal Gold test cassettes and strips. The data can be saved using USB port or can be printed by the reader.
Easy to use and high accuracy
1. 6.2 inch touch screen for CHL-100
2. Powerful program design, it is easy to be used
3. Patented design offer good solutions guaranteed and excellent results
4. Each testing result is available to check and it can show the graph of the result
5. Build-in or external thermal printer
6. Rapid instrument calibration
Customization acceptable
1. Equipped specialized software of different test strips, increase or decrease detection program according to the manufacturers requirements
2. Support customization according to user needs
3. Test card and test strip for user flexible choice
4. Desktop and portable for user choice:
CHL-100 Desktop test strip reader
CHL-200 Portable test strip reader
Remark for Test Strip Reader
1.Test strip reader must match the test strip, cooperate with the manufacturer of test strip
2.Support customization according to test strip manufacturer needs
3.Fluorescence detection must be provided excitation wavelength, emission wavelength and life of fluorochrome
Detection principle
Standard test strip structure as right picture, these equipments detect sample positive or negative (concentration) by measuring reflection of light intensity of T and C line.
These are also suitable for some test strip with several T lines. The CHL-100 can test 5 T lines and the CHL-200 can test 4 lines
Small footprint and easy to use
The CHL-200 reader is a compact designed hand held device. With the CHL-200 you are faced with a professional small instrument for rapid and automated analysis. It's ideal for meeting the needs for reliable in-the-field drug of abuse and point-of-care testing.
Applications:
-- Customs Inspection
-- Environment Monitoring
-- Food Safty
Code Description
AS-12020-00 CHL-200 Portabel Test Strip Reader, DC9V 1.5A (Standard: Adapter S-200)
AS-12021-01 Adapter C-200 for CHL-200

Features
1. A portable reader customized to your needs
2. Adaptable to most test cassette and strip formats
3. Supports a wide range of reagents as well as reagent development
4. High-sensitivity measurement with high repeatability
5. Colorimetric detection: Colloidal gold, colored latex beads, carbon etc.
6. Automatic line position detection and intensity calculation
7. The results are highly sensitive compared to human eye readings
8. OEM service is available according to diferent reagent kits or fluorescence detection
9. Internet, wireless internet function extendable
10. Small size and light weight for easy carrying
11. Simply operation with 1~3 steps quantitative detection
12. Semi-automatic detection with high speed, test time only 5s except prepare sample time
13. Automatically identify CT line position, Error correction range ±3mm
14. Accurately identify one or more( up to 4) T lines value and CT ratio
15. Large built-in memory can save 10000 records
16. External thermal printer for printing reports
17. Powerful software, build-in 2 systems software (one for the end-user, another one for the reagent manufacturer)
Specifications
Modle

CHL-200

Wavelength

525±30nm (Base the requirement of customer)

Detector Type

Photodiode

Test item

Immunochromatographic test cards or wide

2~6mm test strips

Parameter of test item

According to the requirement of test strips

Delay-time test

Set delay-time, then, the test strip complete the

reaction in the reader, timed automatic detection

Detection result

Multi-algorithm, quantitative, Selected results,

save and print results

Test Speed

240 strips each hour

Repeatability

CV<2%

Stability

Drift value≤3% in 2 hours

Data analysis

Qualitative, quantitative, semi-quantitative,

Multi-algorithm

Display

3.2 inch touch screen

Connections

2 x USB

Number of T-line

4 lines

Printer

EXternal Printer

Save Type

Built-in SD card (4GB)

Power Adapter

DC9V 1.5A

Power

9W

Dimensions (W x D x H) mm

225 x 109 x 46 mm

Weight

0.5kg