Sewage pipe: Material PP length 0.9~1.5 meters Interface ID22mm(segmented type and retractable type available)
Inlet pipe: Material PP length 1~1.3 meters Pipe ID6mm OD9mm
Anal tube: Material ABS
Medium Size (pipe end ID20mm anal end ID18mm length 138mm);
Small Size (pipe end ID20mm anal end ID14mm Length 128mm)
Conical joint
Ethylene Oxide Sterilization Validity Period 2 years
Disposable Colon Speculum Kit for Colon Hydrotherapy
---
CHP-PW01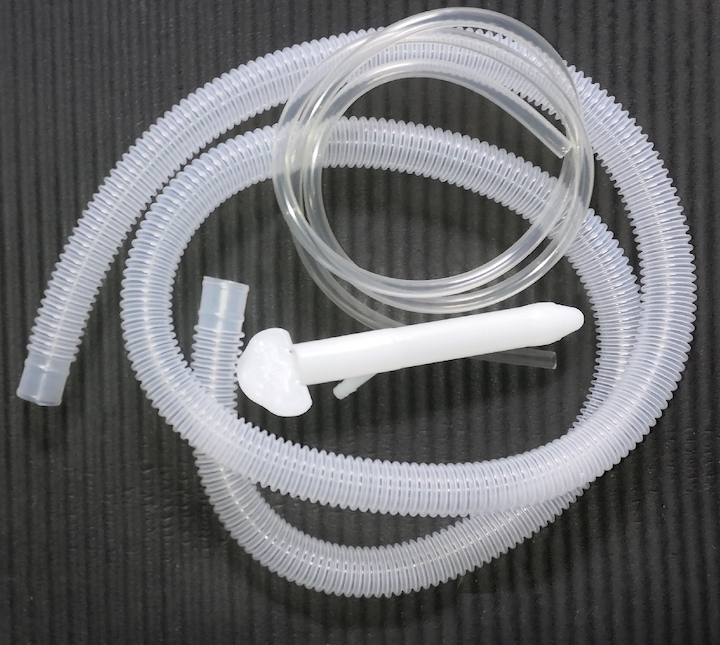 These newly designed, high quality tubing packs are used by nearly all professional colon hydrotherapists because they are safe and much more sanitary than the old messy enema/rectal tip type.
A plastic nipple shaped obturator is slid through the speculum during insertion and then removed. This allows for a very comfortable insertion.
The speculum cannot be inserted more than the recommended 3inches.
The exit tube is held closed 10-15 seconds to allow the water to flow into the entire length of the colon.
Then it is released to allow the waste and water to flow out the exit tube directly into the toilet.
Large fecal matter will break up into smaller pieces and easily pass through the exit tube.
It is used clinically in conjunction with intestinal spa machines and colon cleansing machines.

Configuration:
Consists of an anal tube, an anal tube inner core, an inlet tube and a sewage tube, 4 parts.
The product's anal canal is used to insert into the patient's colon; the inner core is used for insertion, with the rounded design of the top used to reduce the pain during insertion; The inlet pipe is used to connect with the machine, and the cleaning water is continuously input; The sewage outlet is used for continuous discharge of the manure.
Specifications:
Sewage pipe: Material PP
,
length 0.9~1.5 meters
,
Interface ID22mm
(
segmented type and retractable type available
)
Inlet pipe: Material PP, length 1~1.3 meters, Pipe ID6mm OD9mm
Anal tube: Material ABS
Medium Size (pipe end ID20mm, anal end ID18mm length 138mm);
Small Size (pipe end ID20mm, anal end ID14mm Length 128mm)
Conical joint
Ethylene Oxide Sterilization, Validity Period 2 yearsWhole Kit 50sets/ctn
Whole set Unit Packing: 50sets/ctn 62*42*50CM
Only Speculum unit Packing: 100pcs/set 32*25*20cm