Place of Origin:China
Brand Name:ICLEAR
Model Number:CHF-Tcu 380A
Properties:Medical Materials & Accessories
Instrument classification:Class II
Type:Surgical Supplies
Material:copper
Supply Ability:500000 Piece/Pieces per Month
Packaging Details:individual blister bag, 100pcs/box, 1000pcs/ctn
Port:Guangzhou
Tcu 380A Contraceptive Ring T-Ring Iud Copper
CHF-Tcu 380A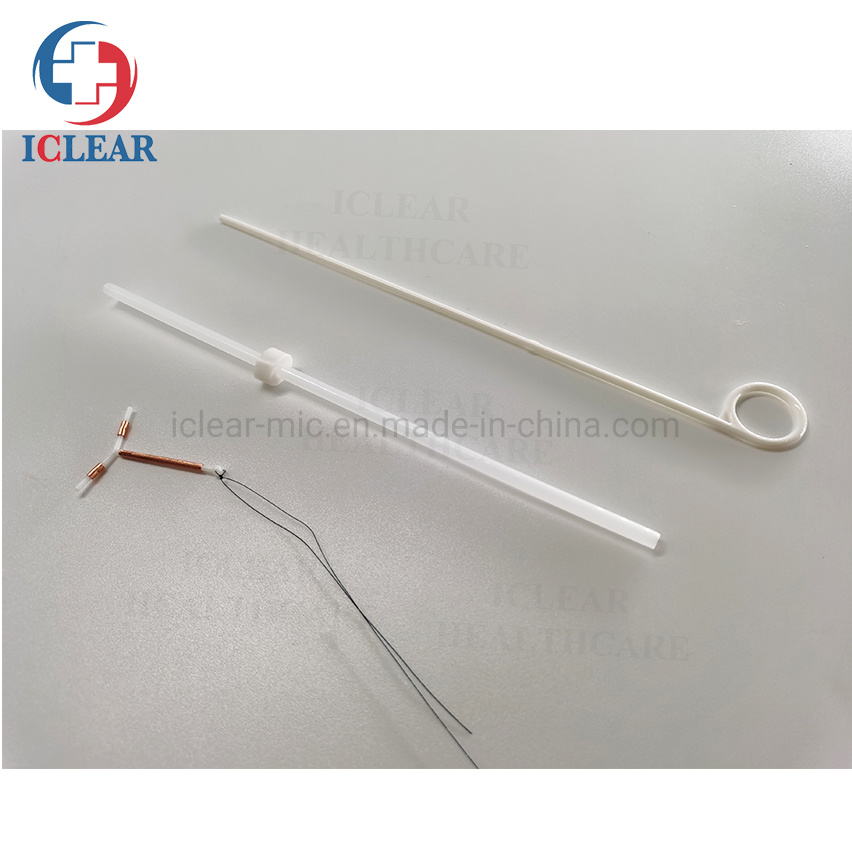 We have specialized in producing IUD for 50 years, and we can do OEM. Welcome to order.
T380A Intrauterine copper iud prices is produced according to CE and ISO 13485 standards.
Provides more than 99% protection
very easy and secure to apply and to remove
With this method of contraception, patient won't need frequent follow ups and motivation.
Can be used by nursing mothers since it doesn't contain any hormones
Couples can be together longer since there is no physical barrier
Provides contraception for up to 10 years starting from application
Thismethod is ideal for couples who want long term contraception and spacecouple of years between their children or for people who have completedtheir families.
It is a reversible method. Patient can conceive again by removing the device.
Conforms to World Population Council specifications.
Has 7 years shelf life
Devices are manufactured by technically trained employees in a cleanroom environment
Specification: 28,30
Copper - T 380A T frame is made from compound of Low Density Polyethylene and Barium Sulphate (15% - 24%) wound with 176mg of 0.25mm diameter copper wire, and two copper sleeves on horizontal arm providing a surface area of 380mm² ± 23mm².
The 'T' is equipped with high-density polyethylene filament for easy removal.
Copper T380A (CHF-T380A)
It is packed together with an insertion tube and Solid Rod in a Tyvek - Mylar film pouch or Mylar - Mylar film pouch.
The insertion tube is equipped with a movable flange to aid in gauging the depth to which the insertion tube should be inserted through the cervical canal and into the uterine cavity.
Centimeter Scale printed in blue is provided on the Insertion Tube for exact positioning of the flange on the Insertion Tube before Insertion.
Additional accessory like Hysterometer / Probe and Folding Device / Loading Device is provided on specific Customer request.
This double copper winding system has a advantage over the single winding system.
The double winding form rules out the possibility of protrusion and this system does not allow overlapping of wire.
Advantages of Double Copper Winding are :
Winding is difficult to unwind
Smooth and uniform winding over the stem
No protrusion or loose end near the stem hole
Uniform wire tension throughout the winding length makes it more elegant
Copper T 380A is 99% effective Intrauterine Contraceptive Device It does not affect Female hormonal system.
Advantages :
Proven Safe Reversible
Easy to load
Long intrauterine life (10 Years)
Hormone free
Highly convenient
Immediate effective
Requires no daily attention
Safe contraceptive for breast feeding women
No touch technique is employed while insertion
Conception is possible after removal of Copper T 380A
Can be used by women who cannot use Steroid Contraceptives
IUD is in place until removed by the health care provider
Safe for all women including adolescents and women over 40
Safe after abortion or miscarriage with no infection
Safe in women with pelvic inflammatory disease currently free from infection
Safe in HIV infected women on antiretroviral therapy and clinically well
Quick Details
Model Number:CHF-Tcu 380A
Properties:Medical Materials & Accessories
Instrument classification:Class II
Supply Ability:500000 Piece/Pieces per Month
Packaging Details:individual blister bag, 100pcs/box, 1000pcs/ctn